The first Cardigan litter in Switzerland was born on 18 May 1979. Breeder was the late Mrs E. Wyttenbach who was breeding Bernese Mountain Dogs with the affix vom Findlingsbrunnen. The parents of the puppies were Jezalin Maestro and Jezalin Miss Mink, litter brother and sister by Joseter Mudwin out of Gypsy Gold of Jezalin, bred by Pamela Walker in England. Both had been imported by Mrs R. Schelling in the spring of 1978.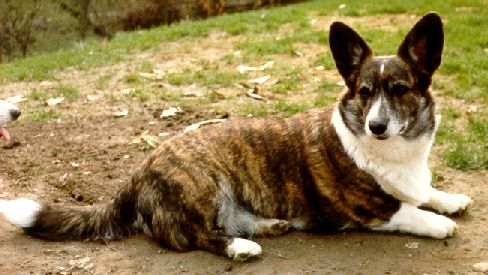 Jezalin Miss Mink

Miss Mink was then bought by a Mrs Widmer who again sold the 4 months old puppy to Mrs Wyttenbach. Maestro joined his sister when he was about one year old as the Schellings running a motel did not have enough time for him.
As far as I know the first Cardigan Corgi to be registered in Switzerland was the tricolour dog Green Beret Wee Slufi, bred by Mrs Nancy van Gelderen-Parker, Holland. That was in 1973. By the end of the 70's the breed was still unknown in Switzerland and Mrs Wyttenbach decided to mate brother and sister. The litter contained 5 dogs and 1 bitch, all brindle, except for one red sable male. This puppy sadly died of parvo virus before it reached its new home in Italy. Mrs Wyttenbach kept the bitch Aja and her brother Ajax. Argo v. Findlingsbrunnen, owned by Mr A. Wyser, was the first Cardigan to gain the Swiss champion title. He was put to sleep because of a disc hernia, only 6 years old.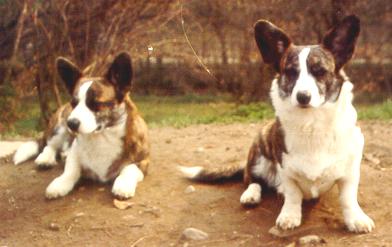 Ajax & Aja
As the mating of the siblings had been successful Mrs Wyttenbach ventured another litter, this time mating the son Ajax back to his mother. This incest breeding was, however, not very successful to say the least and among the 6 puppies of the B-litter born 16 May 1981 there were overshot mouth, fluffy coat, liver colour and drop ears! Temperament was still good.
In 1983, Mr Werner Stöckli imported a brindle bitch, Baileswood Lleflys, bred by S.A. Bailes in the U.K. Unfortunately she died of volvulus before she had a litter. In 1984, Mr Stöckli imported another bitch, the red and white Daisy v. Voerder Ländchen (Finnshavn The Exciseman x Bintje v. Voerder Ländchen) bred by Dr. Ilse Koch in Germany and a sable dog, Jezalin Top Jester (Jezalin Top Brass – Jezalin Fair Pickle) bred by Pamela Walker, England.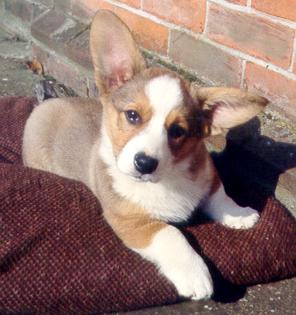 Jezalin Top Jester
Mrs Wyttenbach bred her bitch Aja v. Findlingsbrunnen to Jezalin Top Jester and on 18 February 1985 the C-litter of 3 puppies was born.
Finally, on 6 August 1985, Miss Mink had a single puppy by Jezalin Top Jester, the brindle bitch Deborah v. Findlingsbrunnen.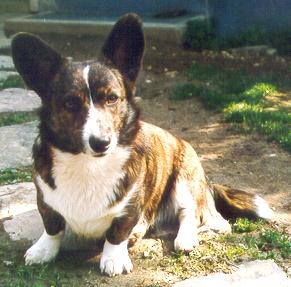 Deborah v. Findlingsbrunnen
A day later, on 7 August 1985, Mr Stöckli's Daisy v. Voerder Ländchen had her first litter by Jezalin Top Jester The three puppies were registered with the affix v.d. Matten. This mating was repeated three more times, in 1987, 1988 and 1989. Two bitches, Abigail and Chica, were exported to Germany to Dr. Ilse Koch (v. Voerder Ländchen) and Mrs Ursula Lehmann (von der Münchner Peripherie), respectively.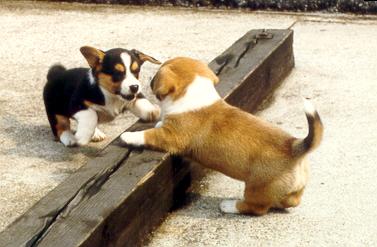 Matten C-litter
As neither Mrs Wyttenbach's Deborah v. Findlingsbrunnen nor Mr Stöckli's Britta v.d. Matten passed the compulsory temperament test of the Swiss Welsh Corgi Club, the breeding of Cardigans came to a halt.
First in 1994, Mrs Franziska Polasek with the affix vom Ghei bred a litter of 6 puppies by Antoc Gregory (Baileswood Geraint – Antoc Angel Delight) out of Torwen Annemieke (Abcar Prins v.d. Griffelhof – Elka zur Emsfähre). For unknown reasons it proved extremely difficult to find buyers for the puppies and this did not encourage other Swiss breeders to take up the breed.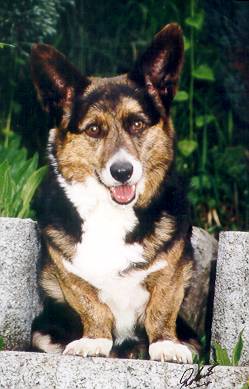 Torwen Annemieke

Torwen Annemieke, her litter sister Annette and two litter brothers Anton and Alf, born 2 June 1991, were bred by Mrs Annette Davis in Germany and exported to Switzerland before she left for the United States. Torwen Annette owned by Mrs U. Guggenbühl has passed the tracking dog trial with an excellent.

Finally, on 5 December 2002, a new beginning was made when Rien-ne-va-plus de la Caverne des Anges (Gowerston Challenger – Pictiwr Perffaith Gwenlais) bred by Mrs Jocelyne Thomas in France, whelped 7 puppies by Rhiwelli Aderyn Du (Baileswood Einyaun Yrth - Rhiwelli Tesni) bred by Yvonne Caul, U.K. Breeders were Christa and Jean-Didier Weber with the affix Trésor des Vikings.

. This time it was not difficult to find puppy buyers.

From 1973 to 2002 a total of 33 Cardigans were imported, but they were either not bred or failed to produce any puppies. There may have been a few more that were not registered.

With three new imports from England, Holland and Denmark it is hoped that the Cardigan in Switzerland will have a brighter future.

Breeding selection:

Dogs and bitches in Swiss ownership are subject to breeding selection prior to mating. They have to pass a temperament test and obtain at least a "very good" in conformation according to the breed standard. Cardigans need a certificate of analysis for PRA or proof that they are hereditarily clear.

Switzerland is a member of the FCI.

The Swiss Welsh Corgi Club was founded in 1969 and caters for both Cardigan and Pembroke Corgis. Members: about 200.

Anita Nordlunde, Switzerland

March 2004