The first Cardigan in Russia appeared in the city of Voronezh in 2000. He came from the Yardican kennel in Finland and was imported by Olga Neznamova Olga. It was a brindle dog Yardican Yeoman (Smultronbacken's Donovan x Castelin Nicolina). Unfortunately, he did not make the breed well known in Russia because he was not shown very much and not always successfully.
Then, in 2001 we brought the second Cardigan to Russia – Blondie's Our First Tri (Nickname's Bestman to Cardax x Avonaire Elusive Fairy in Blue) from Denmark. She was shown in the Baby class at many shows. She was a very beautiful, charming and sociable little puppy so people loved her and soon wanted to buy a dog like her. In the meantime the president of the Russian Beauceron Club, Olga Shilova, Moscow had imported a third Cardigan, again from Finland. It was Big-Wood's Tiny Cezanne (Big-Wood's Tiny Titus x Gucci's Cash Only).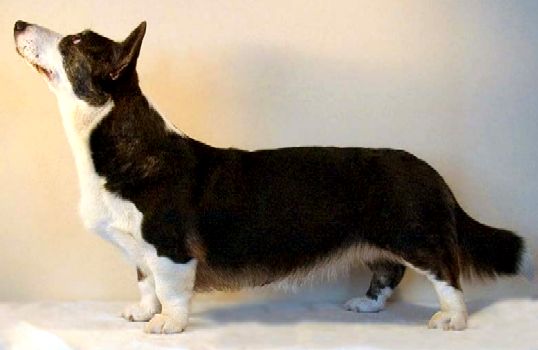 Blondie's Our First Tri
Later, in St Petersburg, a new, pet quality, dog appeared, Pirtek Gnoma del Monte
from Finland imported by Michael Veselov.
Then, in 2002, our friend Nina Antonova imported from Poland another Cardigan, Tokaj-Lisiura Controversia (Ch. Joseter Oban x Cudka Lisiura z Anegdoty).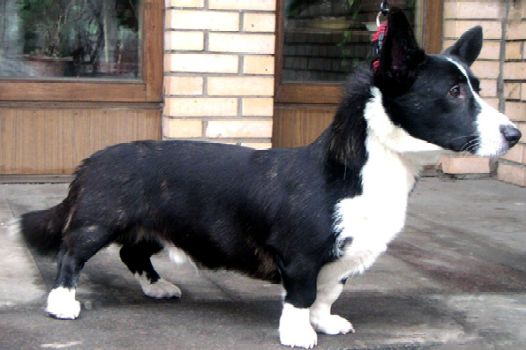 Tokaj-Lisiura Controversia
In 2003, we bought Blondie's Quizmaster (Blondie's Noble Man x Beckrow Beam me Up to Powdermill) from Denmark.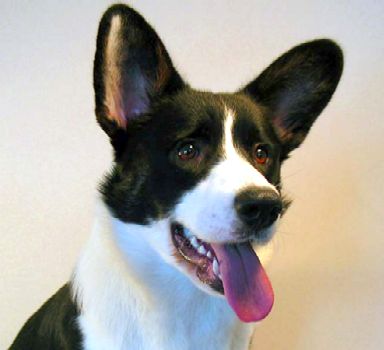 Blondie's Quizmaster.
Later Katerina Klado, Moscow, bought Geestland's Northern Nova (Big-Wood's Kiwi Bravador x Geestland's Fen Fire) from Finland.
The first litter of Cardigans in Russia was born on February 22, 2004 out of our Blondie's Our First Tri and sired by Tokaj-Lisiura Controversia. We hope that the puppies will grow up well and, as was the case with Pembrokes, will quickly find places in dog lovers' hearts.
| | |
| --- | --- |
| Aethwy Voggy | Aethwy Voyager, exported to Ukraine |
So far we are the only kennel in Russia engaged in breeding Cardigan Welsh Corgis. The other Cardigans live with their owners just as pets and do not often go to shows.
As I mentioned before, our Anetka (Blondie's Our First Tri) is very sociable and at every dog show she attracts a lot of people who are curious and interested in her breed. Usually it takes less than 30 seconds for people to fall in love with her! At her first dog show many people saw this breed for the first time. They came to me and said: «What a strange Bull Terrier you've got!» I explained that it was a Cardigan Welsh Corgi more than a hundred times. «What a strange name for a breed! » they said (in Russian cardigan means jacket).
Thank God, it is all in the past. This year, at the main dog show in Russia called "Eurasia 2004", when I was walking through the stadion, many people saw our Kuzma (Blondies Quizmaster) and said « It is a Cardigan!!! ».
Our big thanks go to Kim Nielsen. Without his help we would not have been able to get these high quality Cardies and couldn't do anything at all. At the age of only 2 years Anetka became a multichampion. Kuzma, who only participated in 3 dog shows was twice Best in Show (Baby and Puppy). He was also chosen as Best in Group out of six, and as Best Junior out of eight at Eurasia 2004. It proves to Russian dog breeders, that a Cardigan can also win Best in Show.
We hope that in time we will be able to make the Cardigan Corgi as popular as the Pembroke Corgi.

The latest imports to Russia via Ukraine are the litter sisters Brawura Fanatyczka Controversia and Balbina Futurystka Controversia (USA Ch. Yardican US Westwyn Leo - Cudka Lisiura z Anegdotu) bred by Dorota Paz in Poland.

Olga Khvatova, Aethwy Cardigan & Pembroke Corgis
March 2004


Tokay-Lisiura Controversia and friend.