The first Cardi we imported was a sable bitch Framework's Amanda (Cardax Jeremy x Cardax Rowena) born 03.08.89 from from Margareta Widin, Sweden, in 1989. She was mated to Cardax Naylor and Antoc Gregory without any results. The only litter with a single puppy she ever produced was to the brindle Smultronbackens Douglas born 1992 (Cardax Vivaldi Jubilee x Smultronbackens Arabella). Douglas was a great dog and and it is a pity he was not used by other breeders in Europe; he died tragically at the age of 7 years. We imported him from Margareta Widin together with the dark brindle Cardax Becky (Cardwyn Hynoon x Antoc Marcasita). Unfortunately this bitch never produced any puppies even though we tried.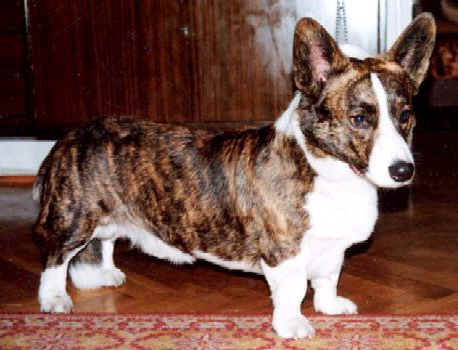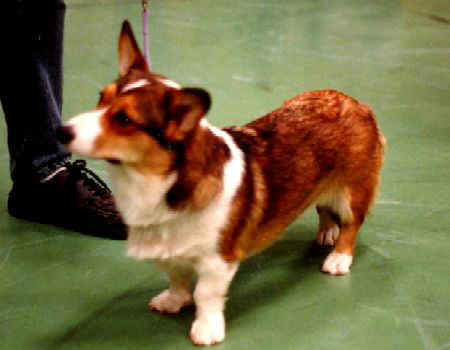 Smultronbackens Douglas Frameworks Amanda
The single puppy out of Amanda, a bright red and white dog called First Cardi Lisiura, born 14.12.1993, went to Erik Faarup (kennel Faarup) in Denmark where he gained his Danish title and became an influential stud. Some of his offspring were exported to Norway and Sweden where they gained their titles for their new owners and carried on his line. Amanda died in May 2003.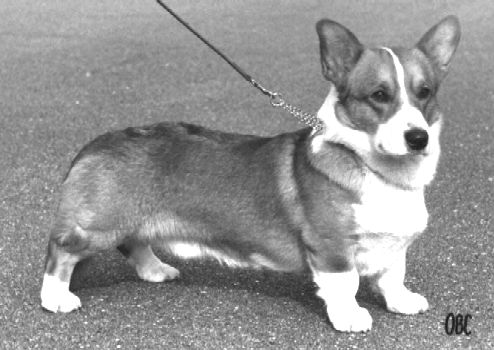 First Cardi Lisiura
As breeding Cardigans was quite a dissappointment for us we again concentrated on Pembrokes. However, in 1995 we were sent a sable bitch from Denmark, Birkebakken's Hopeful Havanna (Faarup Fuzzy x Birkebakkens Dominique Delicious). In 1997 she had her first and only litter of 4 bitches by Douglas, two brindles and two reds. Both brindles stayed in Poland and the two reds went to the Czech Republic to Lenka and Pavel Cerny (Corlan Gi).

One of the brindles, Ch. Blodeuwedd Lisiura, was mated to Beckrow Beg to Differ (Denmark) in 2000 and produced 5 bitches and 2 males (10.01.2000), all brindles for Ewa Wawrzynowz Anegdoty). Two bitches from this litter became the foundation bitches of the currently active Polish breeders: Dorota Paz, kennel Controversia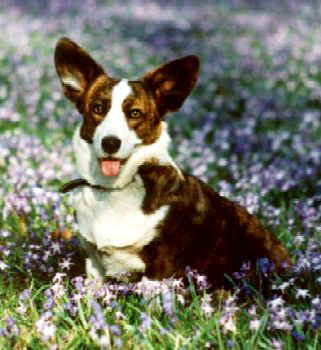 Ch. Blodeuwedd Lisiura
In 2002, Ch. Cudka Lisiura z Anegdoty was mated i to Ch. Joseter Oban (Italy) and produced 10 pups, all brindles. Titian-Lisiura Controversia is doing well in Holland, Tiramisu-Lisiura in Finland, and Tokaj-Lisiura in Russia. All three of them have sired puppies in their new countries.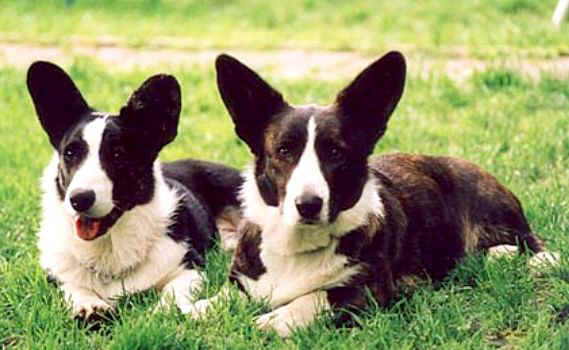 Big-Wood's Tiny Checkmate - Cudka Lisiura
In 2003, Cudka was mated to Ewa Rygier's American import Ch. Yardican US Westwyn Leo (6 pups born 18.11.2003). Controversia has also imported the dog Big-Wood's Tiny Checkmate (Ch. Big-Wood's Tiny Titus x Gucci's Cash Only) from Finland.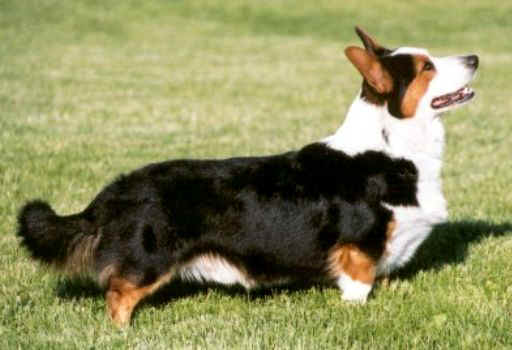 Ch. Yardican US Westwyn Leo owned by Ewa Rygier, kennel Fest
Cytra z Anegdoty has already had 2 litters. In 2002 she had a litter of 8 by Copperleaf Burnt Spice (Holland) and in 2003 by Yardican US Westwyn Leo (Spectrum Harlem Shuffle x Yardican Lledrith). Ewa Rygier also imported a blue merle bitch from Norway, All Trade Galaxy (Treddwynn Silver Wizard x All Trade Cactus).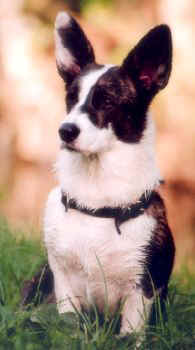 Fest Abigail owned by Magda Zalewska
So far these are all the litters bred in Poland.

Earlier kennel Lisiura also imported a blue merle bitch from Denmark, Blondie's Opal Blue (Nickname's Bestman to Cardax x Avonaire Elusive Fairy in Blue).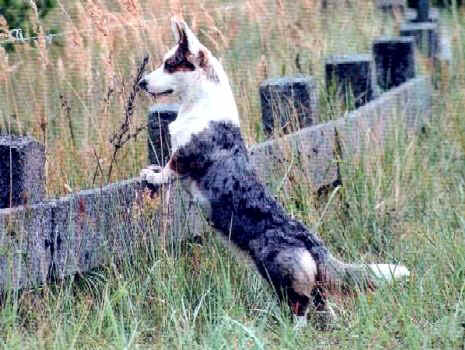 Blondie's Opal Blue
Further, 4 Cardis have been imported from the Czech Republic: Bertram and Budulka Corlan Gi (brindles) and a red male and brindle pointed tri bitch from Corlan Gi's C-litter.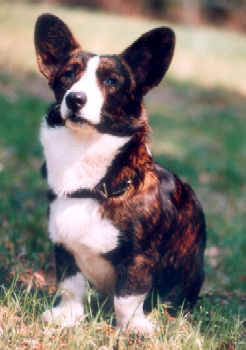 Ch. Bertram Corlan Gi owned by Magda Zalewska
On 30 August 2003 the Polish Welsh Corgi Club held its first official club championship show in Pruszków (near Warsaw) with American judges Margaret C. Thomas (Cardigans) and Chari Magnan (Pembrokes).
Miroslaw Redlicki, Lisiura Corgis, Poland
February 2004