In 1952 the first Cardigan was registered in Holland by Mrs S. de Meester. It was the light-red Bruceman Bonzo, born in 1949.
2 years later Mrs De Meester imported the bitch Kentwood Brenhines (red/white by Kentwood Dewin). Mrs Van Kasteel imported the sable/white bitch Whitybrook Gwynneth (Withybrook Clipper x Withybrook Shemins Isobel) and the dog Kentwood Cedric (Kentwood Dewin x Kentwood Curigwen).
Under the prefix Fox-Brush Mrs Van Kasteel bred the first litter in Holland: 2 dogs and 3 bitches were born on July 5th, 1955 out of Kentwood Cedric and Whitybrook Gwynneth, who in the mean time both had gained their Dutch Champion title.




Kentwood Cedric
Mrs De Meester bred the second litter in March 1956 by the imported Ch. Hannaford Budge (Ch. Withybrook Brock x Mary Lwyd Lawen) and Kentwood Brenhines under the prefix Cleverbrook.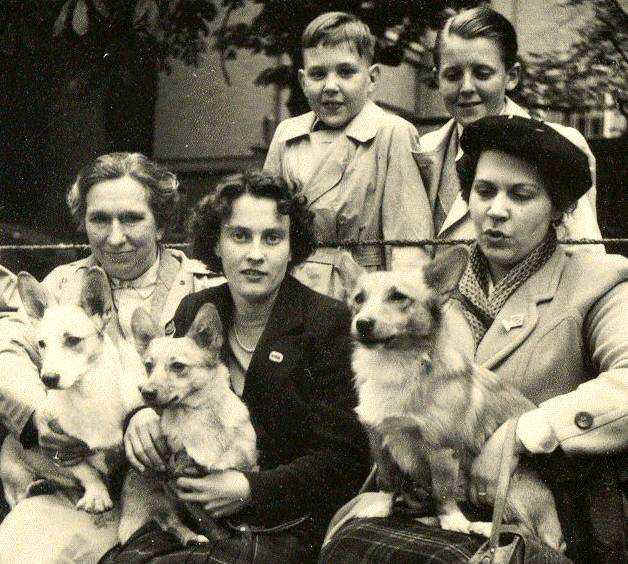 left: Mrs. De Meester with Kentwood Brenhines on her lap
Also in March 1956 Withybrook Gwynneth had her second litter and produced Fox-Brush Bruno, the first Dutch champion bred in Holland.
Mr Tj. Tielrooy (Cymro's) imported the brindle dog Hildenmanor Glenmist (Hildenmanor Pedro x Hildenmanor Dubonnet), the first Dutch and International Champion.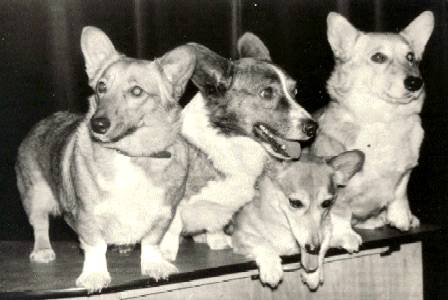 The 2 dogs in the middle are (left) Hildenmanor Glenmist and (right) Hauglands Hazeltop

Other imports followed: in 1961 the red/white bitch Snowshoes from Shiel (Kenroe Silverheels x Berice of Alexdale) who became the foundation bitch of Mr Oeben (v.d. Besthemer Molen).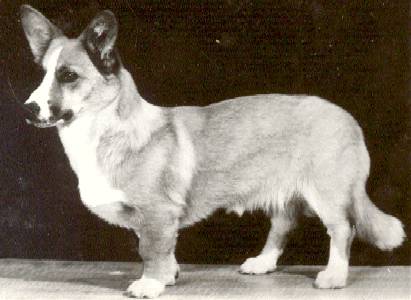 Snowshoes from Shiel
In 1962 Mrs. Nancy van Gelderen-Parker, who was already a successful breeder of Pembrokes, imported the tricolour bitch Fordwell Amanda (Ch. Kentwood Cymro x Parmel Aureola). She became the foundation bitch of Mrs v. Gelderen's kennel Green Beret and produced a long line of successful Cardigans.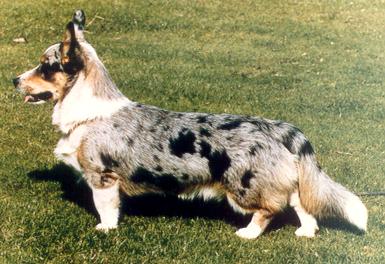 Green Beret's Anwen
Mrs J. Brooymans-Schallenberg imported in 1963 the first blue merles to the Continent: the bitch So Silver from Shiel (So White from Shiel x Kentwood Clogwyn) and the dog Silver Frodo from Shiel (Ch. Kentwood Brenin x Rozavel Blue Petal) who produced quality offspring especially with Mrs Van Gelderen's Fordwell Amanda.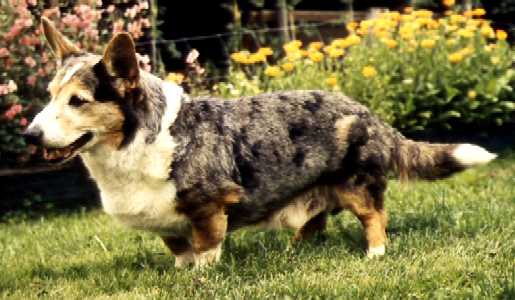 Silver Frodo from Shiel - old age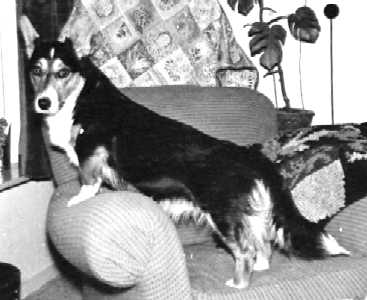 Fordwell Amanda
In 1965 4 litters were registered all out of imported dogs.
The same year Mr Oeben imported the red dog Critum Kontra (Langland Kontra of Bablake x Bloom of Bablake).
From 1970 the registration of litters has been steadily rising.
Critum Kontra sired 4 litters. With Maica v.d. Besthemer Molen he produced Dutch/Int.Ch. Happy Freja and Int.Ch. Happy Kristy v.d. Besthemer Molen.
Silver Frodo from Shiel and Llachar Happy of the Green Beret produced Dutch/Int.Ch. Tragywydd Mandy of the Green Beret.
In 1971 85 pups were registered out of 17 litters.
In 1972 two tricolour puppies were imported: the litter brother and sister Lees Black Berry and Lees Black Opal (Rozavel Merioneth x Ch. Lees Rhiwelli Blue Ray) bred by Miss P.L. Curties. They were owned and shown by Mrs Engel-van Riel. Especially the dog NL/Int. Ch. Lees Black Berry had a great influence on the breed and sired many litters.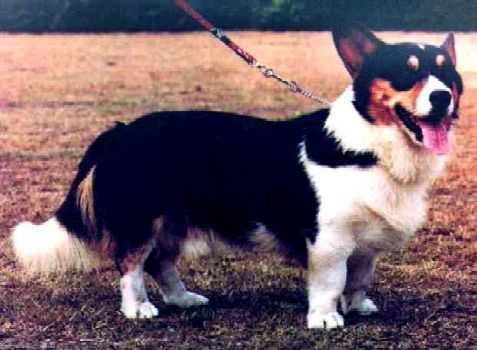 Lees Black Berry
Mrs H. Dijk-van Aalderen took over Mr Oeben's kennel v.d. Besthemer Molen and started to breed with the kennel affix v.d. Besthmerberg. Important imports by this kennel were: Jezalin Spic'n Span, Jezalin Saucyspark (1973), Jezalin Pirate Gold (1974), Sirax Gregory and Joseter Pharoah Son (1976). Mrs Dijk became a very successful breeder with many "v.d. Besthmerberg" champions of the colour red/white and brindle. It came therefore as a terrible shock to all Corgi people in Holland and abroad when Mrs. Dijk on her way to a dog show was killed in a car accident in 1982.
In 1974 registrations topped: 128 puppies out of 25 litters, of which 8 were sired by Lees Black Berry.
In 1974 Mr and Mrs Van Raak (v.'t Ravenest) imported the bitch Robgwen Christmas Greetings (Ch. Winsdown Blue Disk of Robgwen x Robgwen Pride of Place), followed by the dog Robgwen Something Special (Ch. Robgwen Gregson x Robgwen Black Bess) in 1977 and the blue merle bitch Robgwen Blue Tinsel (Ch. Winsdown Blue Disk of Robgwen x Robgwen Welsh Lullaby) in1979.
This kennel produced many champions: Bacchus, Bona Dea, Ixion, Iole, Hercules v.'t Ravenest, just to name a few. It is a pity that after the death of Mr Van Raak in 1990 this line based on Robgwen breeding was lost.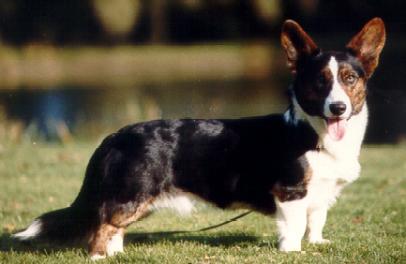 Bacchus v. 'T.Ravenest
In the seventies also Mr G.J. Lankamp (v.h. Dassenkamp) started breeding. The best known dog from this kennel's early years is Buck v.h. Dassenkamp sired by Lees Black Berry. Mr Lankamp imported from Canada the brindle dog Am/Can.Ch. Finnshavn the Exciseman (Can.Ch. Finnshavn Whiskey Tax x Can.Ch. Medwyn la Belle Canadienne) bred by C.D. MacInnes. This dog sired many litters.
In the seventies breeding was very stable with about 20 litters a year.
In 1982 Mrs Van Gelderen imported the blue merle dog Beckrow Blue Vision (Joseter JP x Verwood Silver Jubilee of Beckrow) to give the blue merle breeding a new impulse.
Mrs Ph. Bitter imported the brindle ptd tri dog Bymil Black Treacle (Kerridas Ianto x Ch. Lees Blue Rose of Bymil). Mrs Bitter started her breeding under the name v. Boncilla and from 1990 it became Floatin'.
In 1987 Mrs D. Griffijn-Boeters (v.d. Griffelhof) bred her first litter by Robgwen Something Special out of Cymro's Magic Lady, producing Ch. Abcar Prins v.d. Griffelhof and Ch. Ayla Prinses v.d. Griffelhof. Other well known dogs from this kennel are Ch. Branie Prins v.d. Griffelhof and his litter sister Ch. Brendy Prinses v.d. Griffelhof; Ch. Indiana Jones Earl v.d. Griffelhof and his litter sister Isabella.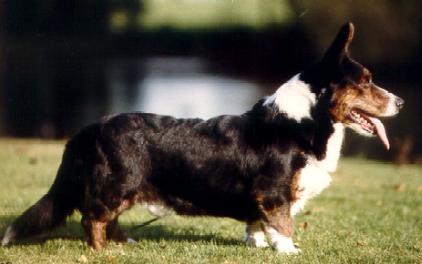 Robgwen Something Special
In 1991 Ch. Artemis (Willowglen Dark Secret x Isis v.'t Ravenest) owned by Mrs Van Raak was the first Cardigan in history to win a group at an International Dog Show.
In the early nineties Mrs. Bitter (Floatin') imported Joseter Quay (Ch. Joseter Joson x Gwenlais Ffreda Ffraeth) and from the Gwenlais kennel: Ffreda Ffraeth (Salvenik Sea Urchin of Gwenlais x Gwenlais Briallen), Liw Liwpin (Baileswood Nefydd Hardd x Gwenlais Fflosi Fflusteris), and the litter brother and sister Idwin and Idweno (Rhiwelli Tango x Gwenlais Asoka Heilyn). They were the start of a successful breeding which so far has resulted in 14 home-bred champions. The latest addition of this kennel in 2000 was NZCh. Copperleaf Burnt Spice (Ch. Memini Hot Doggy Dino x Copperleaf Peach Bonnet) bred by Joy Devery in New Zealand.
New breeders that joined the club in the nineties were:
Mrs Y. Aben-Colin (v.d. Bockmühle), who started with the dog Ch. Indiana Jones Earl v.d. Griffelhof and Ch. Floatin' Pollyanna. This kennel has already produced 4 champions out of 4 litters.
Mrs M. Feenstra-Minet and Mrs M.Minet-de Raaf (Welshclan's). In 1993 they imported the blue merle bitch Pibior Llwyd (Ch. Gwenlais Caleb at Salroyd x Ceredigion Conik Wave) bred by D. Burrows, followed by litter brother and sister: Grangefield Special Story and Grangefield Midnight Charm (Ch. Garett's Special Legend of Grangefield x Clywedog Naturally Special of Grangefield) in 1994. In 1997 the brindle bitch Gucci's Ciao Mackinlay (Ch. Geestland's Arrant Ace x Mackinlay's Lady in Fashion) from Finland joined the Welshclan's kennel. So far (2003) this kennel has produced 3 champions.
Mrs A. Dekker-Pilon (Courtly) bred one champion: Courtly Red Lady Penelope. Mrs Dekker is the owner of Dutch/Int.Ch. Elmo the Dog's Cabaret (Ch. Corgi's Ecco x Daisy the Dog's Cabaret), a red/white dog that sired many litters in Holland and Germany.
The Netherlands are a member of the FCI.
The Dutch Welsh Corgi Club has been founded in 1950 and caters for both the Cardigan and Pembroke.
The Club has about 700 members.
There are several breeding rules in Holland, but the most important are that breedingstock has to be hipscored and examined as Excellent, Good, Fair or Borderline (OFA) or A, B or C (FCI).
When a breeder wants to breed from a C /Mild HD the partner has to have a better hipscore.
It is only allowed to breed from Cardis that have been DNA tested for PRA or are genetically clear. if a breeder wants to breed from a PRA carrier (which is still allowed), the partner has to be PRA clear and the breeder has the obligation to DNA test all the puppies in the litter at the age of 7 weeks, that is as soon as they have an identification number (chip).


Phil Bitter, January 2004
Based on facts made available by Mrs. Elly Nijhuis.