Cardigans in France
The French stud book is called LOF (Livre des Origines Françaises). In France, purebred puppies registrered in the LOF are given names beginning with the same initial for one year at a time, following the alphabet with the exception of K,Q,W,X,Y,Z (rarely used in the French language). This applies to all breeds and all litters born from 1 January to 31 December. This compulsory rule was adopted to help people remember a dog's year of birth. For example, 1987 was "D", 1988: "E", 1989: "F" ... 2003: "U" etc.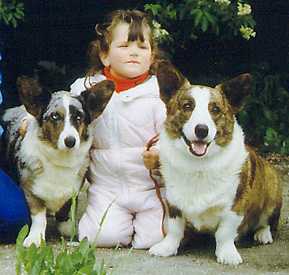 Flora v. 't Ravenest (left) & Tomasco's Mister Diamond

The history of Cardigan Welsh Corgis in France goes back to 1985, when the brindle dog Franjos Dawn Light (Ch. Kentwood Elwyn x Vennwoods Candice), imported by Mr Serge Suire at the age of 2 years, was registered in the LOF as No. 1. Actually Lees Blue Ensign (Lees Blue Emblem x Doldrum Hector of Wendac), bought by the late Mr Antoine Basso-Bert from Miss Pat Curties, entered France a few months earlier but as he was still a puppy he was registered after F. Dawn Light as No. 2.




l. to r.: Lee's Blue Ensign, Franjo's Dawn Light, Tomasco's Mister Diamond, Flora v. 't Ravenest

A few Cardigans were imported earlier, but there are no official records. Later in 1985, Mr Suire imported two litter sisters from Holland, Flora and Fortuna v. 't Ravenest (Ch. Robgwen Something Special x Ch. Robgwen Blue Tinsel) from Mr van Raak and Tomascos Mister Diamond of Magdor (Magdor Mister Jerk x Raindrop of Townlaught) from Miss Cosby. Mr Suire bred the brindle T. Mister Diamond to the blue Flora and the first Cardigan litter with the affix Le Plessis des Lavallières was registered in the LOF on 16 July 1986.
While the very first Cardigan to gain the French champion titel in 1972 was the Dutch blue merle dog Ch. Pooh of the Green Beret, born 6 December 1967, Franjos Dawn Delight was to be the first Cardigan registered in the LOF to gain the title in 1985.
Among the 20 Cardigans registered in the LOF between 1985 and 1987, the beginning of Cardigan breeding in France, we can mention three whose progeny represent the foundation stock :

- Ch. Ermyn Comedy of Errors (Lees Black Heckle of Gorthleck x Lees Comedy), a brindle point tri imported in 1986 by Maurice Boulon, of St Hilaire's Park, who was to become his foundation bitch. Mated to Franjos Dawn Light she produced Diva, Dolce Vita, Ch. Dark Pearl and Ch. Droopy of St Hilaire's Park who was to become the first stud dog of the St Hilaire's Park line.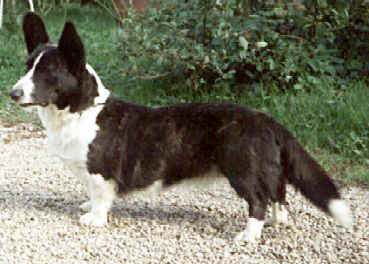 Ch. Kentwood Lynwen
- Ch. Kentwood Lynwen (Ch. Downholme Silver Sand of Joseter x Ch. Kentwood Bethan), a brindle bitch imported by Jocelyne Thomas, La Caverne des Anges, in 1986. K. Lynwen had a litter sired by Droopy of St Hilaire's Park which contained Franzy, Funny Boy, Ch. Felicity and Ch. Fun Lady de la Caverne des Anges. The latter was exported to Mr Alberto Tatari, Giorsal, Italy and has had some offspring there.
Magdor Sir Echo (Ch. Magdor Prince Hal x Tomascos Miss Mischief of Magdor), imported by Jocelyne Thomas at the end of the 80's, and owned in partnership with Maurice Boulon. M. Sir Echo was to become a very influental stud dog in France, siring many Champions like Ch. Glifanne de la Caverne des Anges, Ch. Garfield of St Hilaire's Park, Ch. Isadora of St Hilaire's Park, Ch. Micromégas de Montglane, Ch. Oscar Nemorino de Montglane, just to name a few, and most of the present lines go back to him.

From the early 90's, several other imports should be mentioned as well such as Maurice Boulon's Yardican Debytant (Kerman Black Hussard x Yardican Angel of Dreams) and Ch. Gwenlais Maggie Magnanimous (Ch. Gwenlais Gwrgan Goch x Ch. Rikarlo Brenhines) and Ch. Seren Las Gwenlais (Ch. Rhiwelli Tango x Beckrow Black Pearl) imported by Alain Thévenon, de Montglane, and who, together with Ch. Felicity de la Caverne des Anges, are the foundation bitches of the de Montglane line.

More recently, Ch. Gowerston Challenger (Ch. Corben Tri Try Again x Ch. Gwenlais Idwina) and Ch. Gowerston Blue Print (Ch. Crwtyn Mam Ap Gwenlais x Ch. Gwenlais Idwina) were imported by Jocelyne Thomas. Furthermore, Mair Jones-Rees (Gwenlais) and Yvonne Caul (Rhiwelli) suggested that two dogs, Ch. Crwtyn Mam ap Gwenlais (Ch. Gwenlais Gwrgan Goch x Beckrow Black Pearl) and Rhiwelli Aderyn Du (Baileswood Einyaun Yrth x Rhiwelli Tesni), be sent on loan over to Jocelyn Thomas to assist the French breeders to enlarge their gene pool and enable them to continue to line breed from the offspring of Seren and Maggie.

A few bitches were mated to stud dogs in Holland, e.g. Ch. Felicity de la Caverne des Anges to Ch. Gwenlais Idwin (Rhiwelli Tango x Gwenlais Asoka Heilyn) in 1993; Iseult de Montglane and Ch. Glifanne de la Caverne des Anges to Ch. Gwenlais Liw Liwpin (Baileswood Nefydd Hardd x Gwenlais Fflosi Fflusteris) in 1995 and 1996, respectively.
A
Since the end of the 80's, the French breeders are making efforts to produce quality stock with a total average of 2-4 litters per year despite low demand. To this date, less than 300 Cardigans are registered in the LOF. The small number of breeders encourages the collaboration and it is fair to say that Cardigans in France are mostly owned and bred by passionate people motivated to make the breed better known. This may explain the great participation in the French championship shows and Club matches. For example, 54 Cardigans were entered at the French Club match in 1998, 48 in 1999, 34 in 2000, 50 in 2001 and 34 in 2003 (no Clubmatch in 2002).

In France there are no specific breeding rules, but the regular Cardigan breeders try to respect the general code of ethics regarding colour breeding and PRA. So far there are no PRA affected Cardigans and the majority is hereditarily clear. Breeding stock is closely watched.


France is a member of the FCI.

The Corgis Club de France was founded in July 1995, after separation from the Welsh Corgi and Bobtail Club de France. The Club, counting some 130 members, caters for both Cardigan and Pembroke Corgis.

A newsletter in French is published 4 times a year.

Beatrice Quinio & Jocelyne Thomas, France

November 2003