The first Cardigan Corgis to be registered in the Austrian Kennel Club's Stud Book (ÖHZB) belonged to Andreas and Maria Sillaber who after many years in Germany returned to Austria in 1986 with their three bitches. Mr and Mrs Sillaber had bred two litters with the affix aus der Schwebebahnstadt (referring to the German town of Wupperthal) and planned to continue the breeding of Cardigans. The bitches were:
ÖHZB 1: Amsel aus der Schwebebahnstadt (Beckrow Best of All x Daisy zur Haskenau)
ÖHZB 2: Cindy zur Haskenau (Robgwen Something Special x Bianka-Rozavel zur Coermühle)
ÖHZB 3: Daisy zur Haskenau (Robgwen Something Special x Ascha zur Haskenau).

Ch. Cindy zur Haskenau
The two Haskenau bitches came from Hans and Brigitte Schewior in Germany who ran a well known kennel at the time and particularly Cindy was very successful in the show ring. Cindy can still be seen on decal stickers the Sillabers had made and which as far as I know are the only decals in Central Europe portraying a Cardigan.

In 1987 Mr & Mrs Sillaber imported a dog puppy from England, Willowglen Distinction (ÖHZB 5) by the famous Ch. Beckrow Blue Cedar out of Beckrow Beautiful Dream for Willowglen. Sadly this very promising dog had to be put to sleep at the age of only 3 years because of a brain tumor and due to business commitments the Sillabers never managed to breed a litter in Austria. In 1990, the Sillabers stopped their Corgi activities altogether.

In 1987, a sable bitch Daleviz Mahogany bred by Arthur Bridge was imported (ÖHZB 4). She was sold as a pet and only exhibited once. Sadly she died quite young in an accident.

In 1988, Mrs Margarete Wallner imported Dennis zur Emsfähre (Ch. Finnshavn The Exciseman x Bintje zur Emsfähre) a tricolour dog bred by Mrs Tennie, Germany (ÖHZB 6). He lived for many years in Vienna and was shown a few times. He sired one litter in 1990 (see below) and one litter in 1993 for Ursula Lehmann "von der Münchner Peripherie" in Germany out of Chica v.d. Matten bred by Mr Stöckli in Switzerland.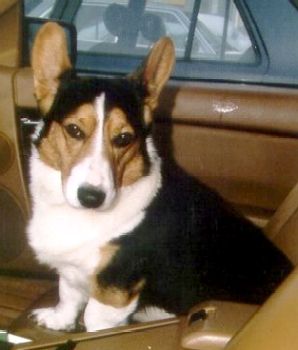 Dennis zur Emsfähre
In 1990, another bitch was imported from England (ÖHZB 7). Mr & Mrs Luft in Leonding had for some time shown an interest in Welsh Corgis and through my intermediary they bought Willowglen Ice Crystal from Joy Tonkyn. The sire was Willowglen Secret Acclaim and the dam Willowglen Coral Ice. In 1991, Mr & Mrs Luft imported Torwen Austrian Filou (Abcar Prins van Griffelhof x Elka zur Emsfähre), a red and white dog from the first litter bred by Annette Davis, a young breeder in Germany who later left for the United States. He had a very successful show career and is still shown in Veteran Classes. One of his many titles is World Winner 1996.

Mrs Luft with Willowglen Ice Crystal
.
In 1990, Josef and Nada Egger (Egger-Mokronog) came to Austria from Germany. They brought with them their tricolour bitch Elka vom Haus Fuchs (Alki aus der Schwebebahnstadt x Britta vom Haus Fuchs) bred by Gabriele Müller in Ottweiler, Germany, and a fluffy dog bred by Mr & Mrs Sillaber, but he was never registered in Austria and later left the country again.

Elka vom Haus Fuchs
Elka, born 12.11.1986, had a litter of four blue puppies (of which one bitch puppy died) by Herkules van 't Ravenest (Holland) This litter (L), born 06.01.1989, was probably registered in Yugoslavia (Mrs Egger's home country) as there are no records in Germany. Laxis went to Maria La Bua in Munich, Laszlo to F. Sala in Italy and Lucy to Toni Bozidar in Ljubljana.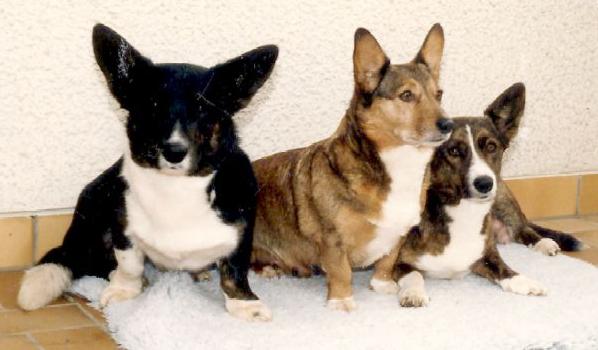 Alki aus der Schwebebahnstadt, Afra von der Münchner Peripherie, Britta vom Haus Fuchs. Owner: Gabriele Müller, vom Haus Fuchs
Josef Egger and Elka vom Haus Fuchs with her L-litter
Also the next litter (M) of 6 puppies, born 03.09.90, by Dennis zur Emsfähre (Germany) must have been registered in Yugoslavia. One bitch of this litter, Morenna Egger-Mokronog, was exported to Austria (ÖHZB 8) and another, Maggie, to Germany (CfBrH 460). A third bitch, Morgan, went to Ivana Jakubcova (z Neustejna) in Czechoslovakia. She became Czech Champion but was never bred. A dog, Mythos, went to Franco Guastalla in Italy where he was mated to the French bred bitch Ch. Fun Lady de la Caverne des Anges owned by Alberto Tartari (Giorsal). There were two more bitches, Mabel and Muriel, the latter went to Steiermark but was not registered in Austria.

Ch. Antoc Gregory and Elka vom Haus Fuchs
Shortly after their move to Austria Mr & Mrs Egger imported Antoc Gregory (Baileswood Geraint x Antoc Angel Delight) bred by Mrs Speding in England. Multi Ch. Antoc Gregory (ÖHZB 11) had a fantastic show career and was frequently used at stud. In 1992 he produced the C-litter (2 dogs and 4 bitches) for Mr & Mrs Egger out of Elka vom Haus Fuchs (ÖHZB 10). One was exported to Luxembourg, 3 to Germany and 2 remained in Austria. Not long after Mr & Mrs Egger moved to Yugoslavia and the following year Mr Egger died and the breeding activities came to an end. Gregory went to Finland to Mrs Doris Düwel (Faydom).

Elka vom Haus Fuchs with her C-litter
Also in 1992, Mrs Luft bred the first litter by Torwen Austrian Filou out of Willowglen Ice Crystal. The 7 puppies were registered with the affix of Airhouse (ÖHZB 19-25). This mating was repeated 5 more times: 1993: 6 puppies (ÖHZB 26-31; 1994: 7 puppies (ÖHZB 32-38; 1995: 5 puppies (ÖHZB 39-43; 1996: 6 puppies (ÖHZB 44-49); 1999: 3 puppies (ÖHZB 50-52) and finally 2 puppies (ÖHZB 53-54) in 2000 by which time the bitch had reached the age limit for breeding.

Ch. Torwen Austrian-Filou with his daughter Fergie Coral of Airhouse
From these litters Mrs Luft kept the brindle bitch Fergie Coral, born 1992, which like her sire was shown very frequently, and, from the last litter, the red bitch Laureen Red Double with whom Mrs Luft hopes to continue her breeding line. From all these litters only a handful were occasionally shown but some competed in agility and Mrs Luft worked with her own dogs in obedience and at least one of them passed the trial of Companion Dog.

The Welsh Corgi Club Austria was founded in 1989 - previously the Corgis were part of ÖCBH (Club of British Herding Breeds, Austria) - and the first Club championship show took place in 1990 with an entry of 56 Pembrokes and 14 Cardigans. The Pembrokes were judged by Joy Tonkyn and the Cardigans by Chris Tonkyn.

One more Club Show took place in 1992. A total entry of 35 Corgis was judged by Margret Cole.

After only three years the Austrian Kennel Club terminated the membership of the Welsh Corgi Club Austria for lack of breeding activities – at the time at least 2 litters per breed per year were required – and the Welsh Corgis came under the direct auspices of the Austrian Kennel Club The Club continued for some more years but without Club speciality, specialist judges and breeding selection.

The Austrian Kennel Club requires neither eye tests nor X-rays for HD and no temperament test either. The responsability lies solely with the breeder. Dogs and bitches only need a show result with a minimum grading of "good" to be approved for breeding.

It is indeed very unfortunate that our small, but active Club with almost 100 members from all over Europe has thus been deprived of working for the benefit of the two Welsh Corgi breeds.

In the meantime the demands of the Austrian Kennel Club on new breed clubs have become even more strict so that a breed club for Corgis in Austria, sanctioned by the Austrian Kennel Club, is not feasible within the near future.

In autumn 2004 the Welsh Corgis therefore re-joined the ÖCBH.

Austria is a member of the FCI.

Edith Soltesz, December 2003
revised: May 2005

English translation: Anita Nordlunde