The Cardigan Corgi


This is not a history of the breed, it is just a few impressions of my interests in the Cardigan Corgi.i. In 1959 started breeding Pembrokes with the help of my friend Di Dobson, but in 1978 I decided to purchase a Cardigan Corgi bitch, as I felt the breed which had been strong in Australia was decimated by PRA and was slowly dis­appearing. It is sad that a breed which doesn't have success in the Allbreed ring no longer retains the interest of show people. There were dedicated breeders in Queensland, South Australia, and Victoria that continue to breed pups with success in Cardigan circles, but mostly the litters found their way into pet homes. Unfortunately time and age has reduced a number of these earlier breeders. At the moment there is a dearth of pups, and altough perhaps in a way we don't have strays in the animal shelters, all our pups appear to be loved.
I started by buying a tricolour bitch, DYGAE COFFEE CARAMEL from a top winning brindle bitch CH CAWYN CARAMEL, by the imported dog CH BECKROW BARONA DOUBTFUL, a lovely tri colour dog that left many Champions. I titled her easily, as Cardigan titles were fairly easy to obtain (17 shows and never beating another dog). I bred her to CH KARDIBROKE JET, a tri colour dog from South Australia. Oh to have that tricolour litter now, as we are struggling to find red headed tri's to mate successfully to the Blue Merles. In 1980 Di and I went overseas mainly to purchase a Pembroke bitch which we did and from her began our successful lines of Pembroke Champions. After much discussion I convinced Di, she being a dyed in the wool Pembroke breeder, that perhaps I could import a Cardigan too. We went round many kennels and looked at all the dogs. Finally we finished up in Cardiganshire at Rhiwelli Kennels, a very old and typical Welsh establishment, the dogs only understood the Welsh language. From Eddie Young I purchased CH RHIWELLI MORNING MIST and RHIWELLI MORGAN AP DINAS both by DALEVIZ MANUEL OF RHIWELLI. The bitch came from a long line of black and blue merle breeding, the dog was from red and brindle lines. These two animals were the foundation of my kennels. My first two Cardigans were placed in pet homes and lived to a ripe old age.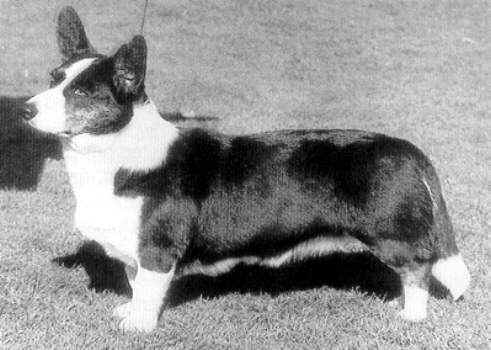 Aus.Ch. Rhiwelli Morning Mist
Betty and Owen Clarke imported JEZALIN PHOENIX OF JOSETER, it was from this mating to my imported bitch that I bred CH WYTHAM FIREFLY (Wendy), a well known tri colour Cardigan that certainly put the breed on the map be­cause of her lovely temperament towards the general public. She won many in Group and in Show awards. I am still striving to breed another red headed tri of this calibre. Being basically more interested in breeding and bloodlines than showing I mated Wendy to four different sires. Twice to a blue merle dog BECKROW BLUE FIRE (Imp UK), once to BLUEMEADOWS PTOLOMY (NZ), once to S.A/AUST. CH. CAMBRIAN JUST FOR LUCK and finally to CH BETHWYN BLACK BARON. Gradually by careful selection, and the introduction of a closely bred NZ bitch CH RHOSSILI KIWI AFFAIR I now have a line of attractive sound Cardigans carrying only UK and old Australian lines. In 1990 I was invited to judge the Cardigan National Show of America in Atlanta. It was an experience to see 200 Cardigans. Mostly the top dogs were brindle going back on the old English dogs. In fact I said in my critique, they must look to breeding reds, merles and black and whites. When I returned years later they had almost bred colours to the detriment of brindles, now they are breeding for conformation over colour. My Best in Show was CH KENNEBEC ICE AN­CHOR, with his daughter runner up. They both impressed me very much. In 1984 I stayed with Dr. Margaret Sullivan, a long time Cardigan breeder. She had just successfully bred a bitch in Ohio from semen frozen in Los Angeles. She offered me straws from CH PILOTS PROGRAMME but quarantine would not accept this venture. In 1990 restrictions were lifted and I imported 34 straws from the result of the 1984 mating namely CH KENNEBEC ICE ANCHOR. This was used firstly on CH MAFTEN BLACK SHARI owned by Sue Hadley, which produced two bitches to breed on, CH BETHWYN BLIND DATE and CH BETHWYN GEORGINA. These bitches have carried on the Ice Anchor name. He also was used over various other bitches in Queensland, New South Wales and South Australia as well as Victoria. He now has many sons, daughters, grand and great grandchildren in the dogs in the ring at the present time.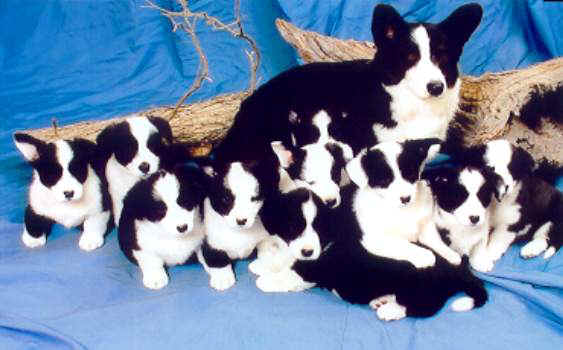 Aus.Ch. Witham Mazurkha with her puppies by Am.Ch. Kennebec Ice Anchor
In 1992 I went to the Cardigan National show in Ohio and decided that I needed a larger gene pool and in 1994 bought out a second number of straws from AM CH ZIRCON JACK OF HEARTS. With these two dogs available to me, I had semen from the two top stud dogs in the States. This gave me the incentive and belief that by importing semen one can obtain top sires that would never come to Australia. I was fortunate that these sires produced good litters, some­times the semen is only fair in their results. My first use of this dog was to put him over an Ice Anchor daughter CH WENTWOOD HONEYSUCKLE, as this breeding was successful in USA. Being 3/4 American bloodlines I used various Australian sires and grandfather granddaughter mating—as yet I haven't found what I want.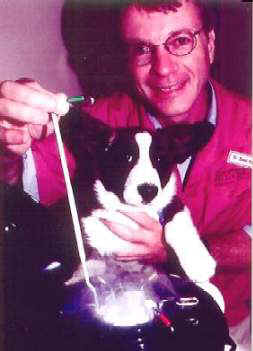 Dr David Hopkins with a "straw" of semen from three lots imported over the years from USA and holding Wytham Hot Toddy (AI) by Am.Ch. Kennebec Ice Anchor.
The second lot of semen to Australian lines has produced a Best in Show at a Corgi specialty show. In 1967 I returned to the States to judge the Megan. A very interesting competition in memory of Mrs Bole-Jones who imported the first Cardigan to the States. The competition is judged by 3 judges with all colour classes being represented, and finally on the majority decision of the three judges a winner is picked. Whilst there I decided to bring out another number of straws from CH. TAFRNWR COEDWIG BLACKSTORM. He was almost brindle free carrying merle, tri and black genes, I felt this may be a good move as Ice Anchor had proved to be a brindle block. This had affected my breeding programme as I had gone from an almost free brindle kennel to almost brindle. Unfortunately I lost my red bitch and now strive to regain this colour. I often think of all the coloured puppies in pet homes. Breeding is not easy when you are limited to only a few bitches.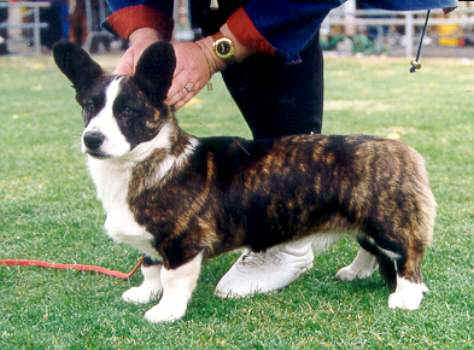 Wytham Honey Rose (AI) by Am.Ch. Zircon Jack of Hearts ex Aus.Ch. Wentwood Honeysuckle.
Over the years I have studied pedigrees and used them in the hope of picking up some of the famous dogs of the past. In some cases, in spite of excellent paper results, there have been disasters, on the other hand chance matings have produced the goods. Since the National Corgi shows have been implemented, unfortunately the rule is that Cardigans and Pembrokes can only be shown together as one breed, where as before we had a Cardigan Club in New South Wales with a champi­onship show for the single breed. Numbers do not permit us to run separate clubs, but the Cardigans are valiantly trying with some success to win in Show awards at specialty level. So often the Cardigans are the bridesmaid, never the bride, however this seems to be altering. It appears from my browsing through old handbooks, Owen and Betty Clarke won Best in Show at the Canberra Welsh Corgi Championship Show in 1984 with CH TWINBELLE TRISTAN, but it appears that the next Best in Show was in 1998 and once again at the Canberra Corgi Club Championship show under a NZ judge CH SHADWYN CHARITY C.D. owned by Jean Justin. This bitch was by CH JALNA PARK LEY CASWA C.D.X from CH DORWYN SIMPLY SUPE­RIOR C.D. It is interesting to note that this bitch was titled in obedience and was the product of two obedience winning dogs. I have always maintained that certain genes can produce the animal you are looking for in a pedigree. In July 2000 a Cardigan was Best in Show at the 200th Welsh Corgi Champion­ship Show of South Australia under a Queensland judge, FINLAI INTO THE BLUES, by CH FINLAI BEAU LUKE out of CH GILSEVAR ALL THINGS BLUE. I am sure this attractive puppy owned by Nan Green and Llandaff Kennels and bred by Pat Osborne will breed on to a successful line of blue merles. Both owners and breeder have been breeding for many years. On the other side line Dorothy Hartcher, a brindle breeder of many champions, now has an attractive blue merle from Hawaii that is related to these promising merles. In November this year, at the Welsh Corgi Club Championship Show of Victoria, I was lucky to win Best in Show under a UK judge with CH GOBELIN QUEEN OF SPADES (Al) by AM CH ZIRCONS JACK OF HEARTS from CH VASHKA BUTTERSCOTCH. She was bred by a recently new, enthusiastic Cardigan breeder. Another Ice Anchor /Jack of Hearts lines, she has proved her worth, winning from an early age at specialty and allbreed shows under local and overseas judges. I am now trying to decide to whom I will mate her, to carry on her good genes. This is a tall order as the gene pool is still limited in this country. Please excuse me if I have only mentioned a few names, but I salute all the dedicated breeders from the early days that have laid the foundations to all the present breeders who are trying to keep such a desirably lovely breed in front of the eyes of the public. The Cardigan Corgi is winning support amongst pet owners and may they go onto higher things in the future. New Zealand Kennel Gazette February 2001 • Supplement

by Judith Scott-Williams, Dinas & Wytham Kennels (Australia)