In 1954, on New Year's Day I bought my first Corgi Edenwell Black Justin, son of the famous Pembroke Ch. Black Prince, from Mr Robert Eden, who also bred Cardigan Welsh Corgis. I well remember his parting words......."we'll have to fix you up with a Cardigan one of these days."

Little did I think that I would spend so many happy years surrounded by them and that one wonderful day, after being an enthusiastic member of the Cardigan Welsh Corgi Association, I would be elected President. Cardigan Corgis became my life.

It all began when Peggy Cunningham asked me to go with her to the Gleghornie Kennels in Liverpool to help her to choose a Cardigan bitch puppy. Mrs Roberts brought in a pretty red/white puppy for Peggy and a lovely brindle one which she put on my knee. Much as I would have loved to take this little beauty home, I had to decline as my mother had been taken into hospital the previous day and as I was a full time teacher there would have been no-one at home to look after a puppy. That puppy became Ch. Gleghornie Blackthorn who won seventeen Challenge Certificates, including four at Crufts and became the Breed Record Holder.

You can imagine what happened a few years later when an advert in Our Dogs magazine announced that the Gleghornie Kennels had a 6 month old dog puppy for sale "same way bred as Blackthorn".

I was on the phone immediately to Mrs Roberts who then lived in Devon and I bought Gleghornie Brigadier unseen. I sent a cheque straight away and arranged to pick him up at the 1960 Windsor Championship Show where he had been entered. It was love at first sight.

He looked so young and beautiful. He did not win the puppy class but gained a reserve prize and a knowledgable onlooker remarked in a loud voice: "that pup will beat more dogs than will ever beat him." I was so thrilled to take him home with me......MY FIRST CARDIGAN WELSH CORGI!

I entered him for Birmingham Championship Show in September where, to my delight, he won four first prizes and also the Reserve Challenge Certificate. I was so thrilled and became completely devoted to the breed for the rest of my life.

Brig won his way to become CH. Ringinglow Gleghornie Brigadier who gathered six Challenge Certificates after which I retired him as I wanted to start showing a bitch puppy Brynhall Tamerisk bred by Wendy Hall, from Brigadier's daughter Vixencove Tyddwen of Brynhall. Tammy was sired by Gwen Roberts Ch. Robgwen Welsh Minstrel, son of the record holder Ch. Parmel Digger.



She in turn, mated to Hezelclose Indigo, son of Ch. Echium of Hezelclose, produced my lovely Ch. Ringinglow Morys who passed on his many assets to his fabulous daughter Ch. Ringinglow Mory's Treasure. Morys and Treasure became champions on the same day at Richmond Championship Show 1978 when Jean Lanning gave them the double award Best Dog and Best Bitch.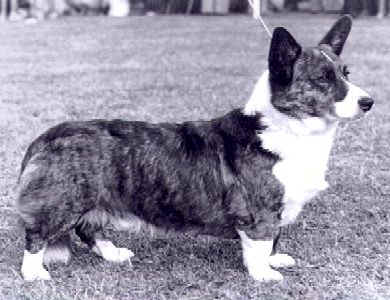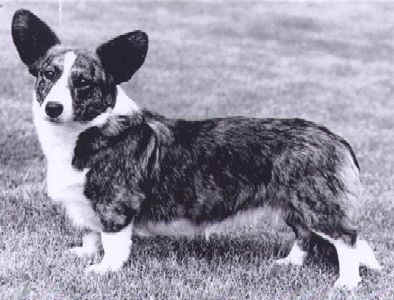 Ch. Ringinglow Morys - Ch. Ringinglow Morys Treasure
Treasure's dam was Ringinglow Tyddwen, a quiet little lady from my very first litter, who did not really like the shows but Treasure made up for it with notable highlights. In March 1980 she was invited to take part in the CONTEST OF CHAMPIONS in London, being one of the 32 top dogs (all breeds) in the country. She showed to perfection and won her way into the second round where she was drawn against the CRUFTS BEST IN SHOW WINNER with the judge who had made him best of breed at Crufts. Naturally he won that round and was subsequently the supreme winner of the contest.

At nine years old Treasure won her 29th Challenge Certificate at Crufts 1984 and as Best of Breed she was one of Joe Braddon's final selection in the Working Group.

I decided that no-one was going to beat her after that, so she was officially retired that day.


She truly deserved her retirement and enjoyed a very happy life at home for the next six years. Sadly we said goodbye to Treasure soon after her 15th birthday and I miss her still.

Treasure's daughter Ringinglow Valentine from her first litter, mated to Ch. Jubilee Joseph owned by Mr and Mrs Baxter, produced for Peter Clifton the fabulous, one and only Ch. Joseter Joson, winner of 33 Challenge Certificates, including 4 times at Crufts. It was after his last appearance at Crufts that he "emigrated" to America where he sired 21 litters thus introducing the Ringinglow breeding into the USA.

Valentine mated to Joseter Bentinck produced Joseter Benita who was campaigned by Lorraine Smart to gain her title.

Following Treasure came the cheeky madam Ch. Dolly Dickon of Ringinglow, bred by Mrs Allsopp from Bridgemont Sophie, a granddaughter of Bridgemont Suesman, litter brother to my Bridgemont Sentinal, sire of my Morys and therefore still one of the family. She was a real extrovert, who won six challenge certificates in a very short time and was a joy to live with. She stayed at home to make way for my next promising youngster who began her career as Best Puppy at the 1986 CWCA Diamond Jubilee Championship Show judged by Ken Linacre who also made her Best Veteran many years later after she had won six Challenge Certificates and became Ch. Ringinglow Troyanna.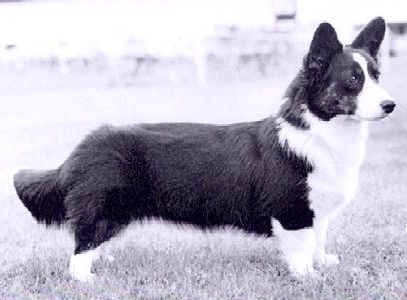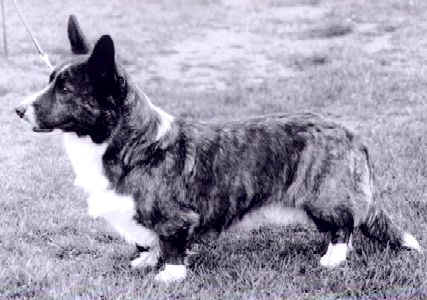 Ch. Dolly Dickon of Ringinglow – Ch. Ringinglow Troyanna
In 1990 she produced a wonderful litter of one lovely quality dog and five beautiful look-alike bitches. They were sired by Wendac Legend son of the famous Ch. Wendac Robgwen Midnight Special. One of these, Ringinglow Hecate of Watamu surpassed herself for her owner Gordon Barrow at the 75th Jubilee Championship Show in 2001, by winning Best Veteran and not only Reserve Best Bitch but also RESREVE BEST IN SHOW, a wonderful thrill for her owner and a great achievement for the Ringinglow kennels.

After Troyanna came Ch. Ringinglow Dollybird who was the kindest, sweetest little lady who ever lived. She smiled at everybody and was a joy to own. Her litter brother Australian Ch. Fine N' Dandy put the Ringinglow kennels on the map "down under".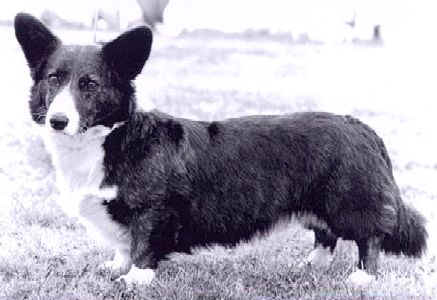 Ch. Ringinglow Dollybird
As well as being Best of Breed in five states he sired a record litter of seventeen puppies, many of them becoming champions too, so together with Australian Ch. Ringinglow Sailor King who joined Maaike Spinks in Australia too, they left their marks on many youngsters whose pedigrees bear the name Ringinglow on the other side of the world.


When I realised that Ch. Joseter Benita had a litter of puppies sired by Ch. Joseter Joson I bought Rikarlo Amos of Ringinglow. His pedigree went back to Ch. Ringinglow Mory's Treasure via each of his parents directly. Although he won 1 CC and several reserve CC's, including one at Crufts he never gained his crown as unfortunately he was being shown at the same time as Sandra Tonkyn's outstanding blue merle Ch. Willowglen Silver Cavalier.


Amos was a champion to me in every way and was sire of my very typical young brindle bitch Ch. Ringinglow Magic Wand who sailed through her puppyhood unbeaten, ending with Top Puppy In Breed and Reserve Best Bitch at Crufts. Her dam was the lovely Gwenlais Lloer Lledrith of Ringinglow bred by Tom and Mair Jones Rees, she also won a Reserve CC at Crufts.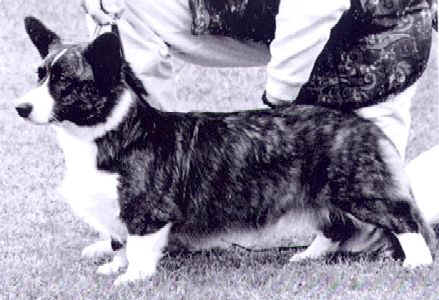 Ch. Ringinglow Magic Wand
Magic Wand produced a promising litter of puppies , but sadly none of these was campaigned for long enough in the showring.

My story ends by saying that time has passed too quickly and travelling to shows is no longer possible but hopefully Magic Wand's granddaughter Paxwold Elfin Caprice of Ringinglow will make it to the showring. She is the star of the local dog club training class each Wednesday afternoon, the best day of the week for me as I watch Beryl Jamieson (Becky's other mother) putting her through her paces.

I was sad to say farewell to being involved with committee matters and to being President for six years, but I will always be interested in Cardigan news while relaxing at home with my three lovely friends: Wanda, Becky and Harry. He is Clywedog Rhodri of Ringinglow, grandson of Troyanna, a lovely, lively red/white extrovert, very typical Cardigan Welsh Corgi who keeps me cheerful, a very good ambassador for the breed.
Maureen Thomas,
April 7 2004.