Rhydowen Kennel, Registered

is the continuation of Swansea Kennel that started in the early 1940's.

Pat Santi became the protégé of Margaret S. Douglas then owner of Swansea Kennels, this was some 42+ years ago. Margaret S. Douglas was a professional handler of all breeds and inherited the Swansea stock from Dr Peterson who had been raising and showing a Cardigan for a while. Dr Peterson handed the Cardigan and "Swansea" over to Margaret in the early 1940's.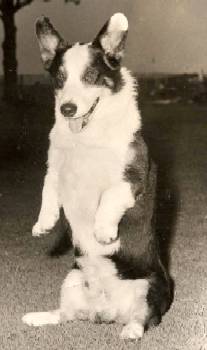 Ch. Lord Jims Lucky Domino
Pat was the owner of Pembrokes when she first fell in love with Ch. Lord Jim's Lucky Domino, a very famous tri-colored Cardigan male owned and shown by Mrs Douglas. "Pup Pup", as he was called, wormed his way into Pat's heart. He was everything Pat thought a dog should be and she had always dreamed of owning a black dog. He was sired by Ch. Swansea Punch x Ch. Springdale Arabella.
Punch was sired by Ch. Swansea Jon, CD (the twelfth AKC Champion Cardigan in the USA) x Swansea Diafol (who was Jon's daughter).
Arabella was sired by Kentwood Helgi (out of Eng. Ch. Kentwood Adwyth x Eng. Ch. Kentwood Jill) x Ch. Kentwood Dilys (Eng. Ch. Kentwood Dewin x Eng. Ch. Kentwood Myfawny).

This takes us to 1/2 Swansea and 1/2 Kentwood which was the foundation of Swansea Kennels and today still is a big part of Rhydowen Kennels. As Rhydowen, Pat imported three Kentwood males to go with her linebred Swansea bitches: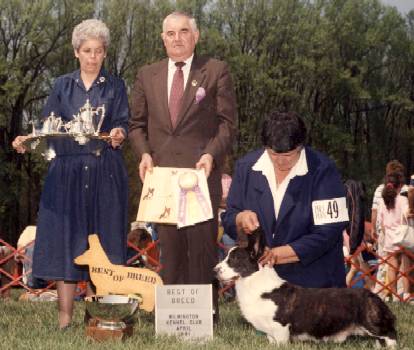 Ch. Kentwood Luc
- Ch. Kentwood Luc (brindle & white): over 45 Group placings in America, 5 Regional Specialty wins, Group Ones, and over 75 champions,
- Kentwood Mintys (red and white) with champion children and still here with us and
- Ch. Kentwood Rhydwen (brindle & white) the last of Kentwood breeding by Sonnica Godden.
Rhydwen, better known to all as "Tudor", is black factored and produces black in almost every litter. "Tudor" is the youngest of the boys and is our devoted house watch dog. Luc has gone on to Rainbow Bridge.
Years after joining Swansea, Pat sold Arthur Bridge two dogs, Am.Ch. Swansea Judy and her grandson Swansea Daleviz Punch, two tri-colored Cardigans a male and female. They are behind Luc and another of the Rhydowen imports Ch. Locksleyhall Laird, a double Eng. Ch. Jubilee Joseph grandson.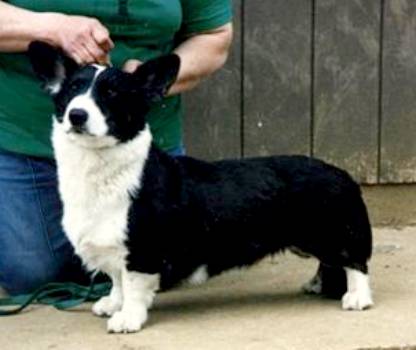 Ch. Locksleyhall Laird "Pogo".
Time marches on and Rhydowen has many first's in the breed and so did Swansea.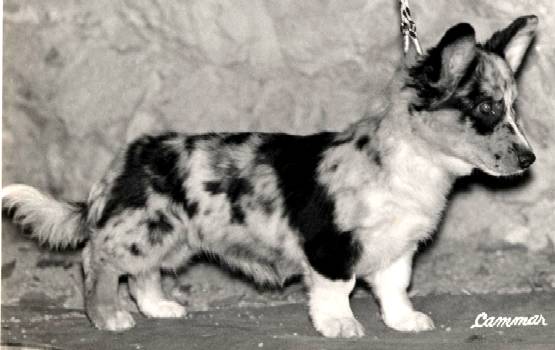 Ch. Blue Jeans of Cambria, here as puppy.
1st Blue Merle to place in the Group (Working): Ch. Swansea Blue Jeans of Cambria owned by Margaret & Pat, shown by Pat.
1st Blue Merle to win a National Specialty from the Open Bitch Class: Ch. Swansea Blue Diana, owned by Margaret & Pat.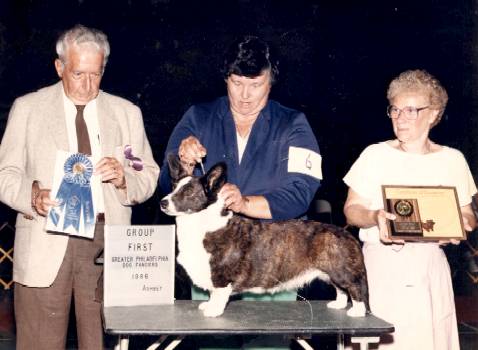 1st Female to win a Group One ( Herding ) Ch.Rhydowen Hex'um Baby.

1st Herding Trial Dog to win a Group 1 (Herding) Ch. Rhydowen Jasper Tewdwyr, HS.
Many times winners of Brood Bitch and Stud Dog Awards from the CWCCA.
Numerous Awards of Merit from Nationals and Regional Specialties.
Top producing dog in the history of the breed: Ch. Kentwood Luc.

1998 #1 Cardigan all Systems in America: Ch. Rhydowen Noteworthy Allegro.
1999 #1 Cardigan (Pedigree system) Ch. Rhydowen Bancyfelin Corwynt.
1st Champion CD in the Breed Ch. Swansea Jon, CD.
Youngest TD title winner at 2 weeks over six months etc.
We have many Register of Merit dogs and many we have to yet submit for this honor.

We could go on, but as for Rhydowen today we pride our selves on the outstanding personalities and loving comical nature of our Cardigans.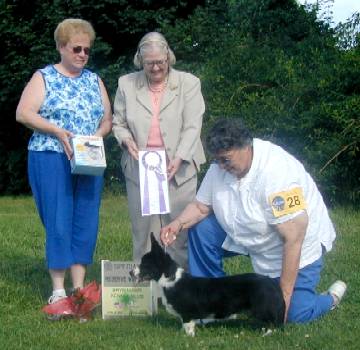 "Speckles" one of our new kids.
Rhydowen is proudly owned today by: Pat Santi, Jan Siragusa (Pat's legally adoptive mother) and Lori Kopreski & Nancy Babyak.


Ch. Rhydowen Blue Daniel


Ch. Kidwelly Rhydowen Chips Ahoy


Ch. Rhydowen Tara One Mo' Time


Ch. Rhydowen Blue Druid


Ch. Rhydowen Bro Sebastian aka "Bro"
Submitted by Pat Santi, July 2004