The Baileswood story
by Sheila Bailes
During the spring of 1961 I was obliged to terminate my full time employment and decided my first priority was to own a dog of my own.
My husband Viv agreed, providing it was small but active. An advert in the local paper stating "Corgi pups for sale" found us viewing an attractive litter of red/whites, each having a long, white-tipped tail.
After deciding upon a flashily marked dog pup, I amazed and horrified the breeder by asking why at 6 weeks of age they hadn't had their tails docked! This was my introduction to the Cardigan Welsh Corgi.
"Jeff" proved a wonderful companion and though registered with the Kennel Club as Baileswood Red Boy (he was heavily bred back to Ch. Kentwood Dewin and a grandson of Ch. Kentwood Cymro), we took no steps for the first three years of his life to show him, due I am sure to lack of contact with the show-going fraternity.
However, during the summer of 1964, on a outing to a local agricultural show, we were watching the judging of a small exemption dog show when two ladies came into the ring, each with a young brindle/white Cardigan bitch. We couldn't believe our eyes, as they were the first Cardigans we had seen since buying our puppy. The ladies were thrilled to see we owned a Cardigan and introduced themselves as Miss C.M. (Kit) Rob of "Hezelclose" prefix and her companion Miss Olive Ambrose. They assured us Jeff was good enough to show and would we care to support the Cardigan classes at the forthcoming Northern Counties Welsh Corgi Society show. Viv and I were very taken by the lovely mahogany brindle colouring of Miss Rob's "girls", namely Simethis and Siobhan of Beal Close bred by Miss Bagley, another northern enthusiast, out of her Ch. Joanne of Beal Close and sired by Ch. Parmel Pilot.
Deciding I would love to own a brindle dog, I was lucky to meet Mr and Mrs Elders at the aforementioned Welsh Corgi show, who happened to have three four-month-old dark brindle dog pups out of their red/white bitch Jill of Leaside, who was mostly Kentwood breeding and sired by the brindle Ch. Parmel Pilot, one of the famous champions bred and owned by Mr and Mrs Parkinson.
Mr Elders had "rescued" Jill from the brink of destruction; her previous owners, emigrating to Australia, had been unable to find a new home for her.
With our limited knowledge, we thought two of the pups looked promising. Mr Elders agreed to sell the larger pup, keeping for himself the soon-to-be-named Owain Glyndwr. Our pup, flashily marked and carrying the most white of all three, became Black Mawddach.
"Guy " grew on well and from photographs I had seen, I liked to think he slightly resembled Miss Godden's great Ch. Kentwood Cymro. Despite considerable success in the show ring, Mawddach was not to gain his championship, but it was to be as a stud dog that he was to make his mark, producing stock for northern breeders which were to make an impact on the breed as a whole.
With growing enthusiasm we decided to look for a good bitch and in November 1965, we purchased from Mr and Mrs Jones, the eight-month-old red/white Dilwel Gwerfyl, sired by the red/white Ch. Southpark Gerwyn out of their outstanding brood, the brindle/white Dilwel Gweno. Never to be a famous showgirl, Gwerfyl's value lay in immaculate breeding, two of her litter sisters becoming champions, namely Dilwel Gwynfyl and Dilwel Gweno-Yr-Ail.
Meanwhile, Miss Kit Rob had been campaigning a red/white bitch we liked very much, namely Jasione of Beal Close, again bred by Miss Bagley out of Ch. Joanne, but sired this time by Dilwel Crwt Bryn.
In 1966 I persuaded Kit to mate Jasione to Mawddach in order to prove him, and from the resulting 10 puppies she kept a gorgeous-headed dark brindle/white dog, soon to become Ch. Echium of Hezelclose, her first ever champion, Best of Breed at Crufts 1968 and the joy of her life.
Kit very generously gave me Echium's litter sister, the red/white Egeria, who was unlucky not to gain her championship, but winning Junior Warrant and two Reserve CC's. Sadly we were never able to get her in whelp.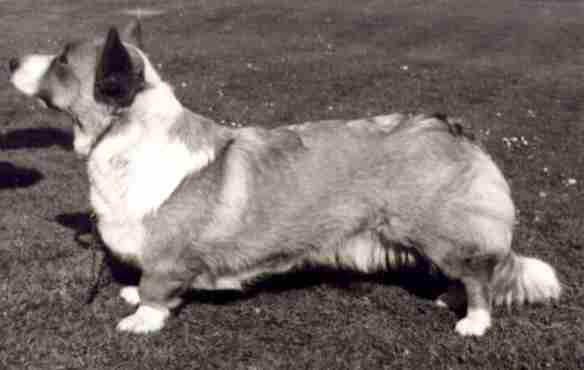 Egeria
1967 was notable for the registration of our "Baileswood" prefix (Mawddach having won entry into The Kennel Club Stud Book was unable to have this added to his name), and the mating of Gwerfyl and Mawddach to produce the lovely red/white bitch Baileswood Gwlithyn, our very first champion.
Her brindle sister Grianne, sold to Mr and Mrs Lindley then mated to Echium, produced their first champion, namely Bleacholme Celynen.
In 1968, Mr and Mrs Graham, keen northern exhibitors of the "Tursdale" prefix, brought their Veritas Sequin (bred by Miss Sally Verity) to Mawddach and produced two very good bitches in the brindle/white Tursdale Black Pearl (sold to Mr and Mrs J. Paige of "Grangefield") and the red/white Tursdale Amethyst who came to Baileswood. Each bitch won three reserve CC's, but in 1970 with a stroke of genius, the Paiges decided to mate Black Pearl to Mrs Doreen Dodd's sensational young star Ch. Wendac Robgwen Midnight Special (bred by Mrs Gwen Roberts). A bitch from this litter went on to make breed history, namely Ch. Deb's Delight of Grangefield, winning an all time record of 35 Challenge Certificates, including six in succession at Crufts.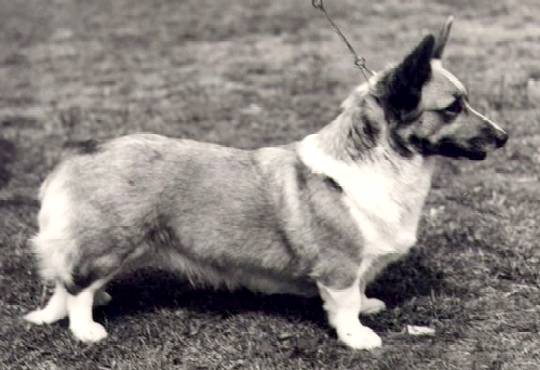 Tursdale Amethyst
In 1972 Amethyst was also mated to Midnight Special, our all brindle/white litter producing the dog Ch. Baileswood Bryn Mawr, owned by Mr and Mrs Serginson of the "Marycliffe" prefix and the bitches Ch. Baileswood Blodeuwedd kept by us and Baileswood Briallen owned by Mr and Mrs Littlefair of "Doldrum"; both girls destined to become outstanding broods.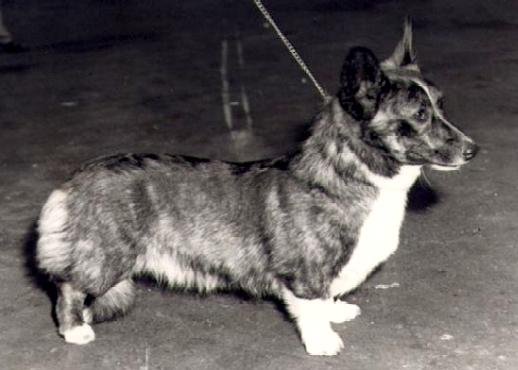 Ch. Baileswood Blodeuwedd
Returning to 1970, a final litter was planned from the five-year-old Gwerfyl with a mating to Echium producing our first male champion, the red brindle/white Baileswood Gwythyr, Best of Breed Crufts 1973 and to prove an influential stud for northern breeders.
In 1975 Blodeuwedd was mated to Gwythyr, producing the red brindle/white bitch Ch. Baileswood Dyddanwy and a repeat mating in 1976 produced the dark brindle/white bitch Ch. Baileswood Essyllt.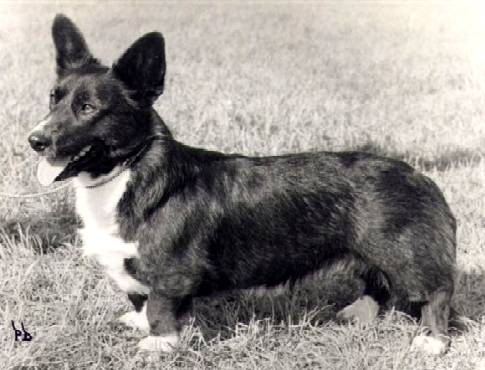 Ch Baileswood Essyllt



Ch. Baileswood Dyddanwy

Meanwhile, Baileswood Briallen was proving of great value to the Littlefairs, for when mated to grandsire Mawddach in 1973, she produced their first ever champion, the brindle/white bitch Doldrum Amanda.
Very much admiring Dyddanwy and Essylt, they again came to us in 1975 for a mating of Briallen to Gwythyr which produced the red/white champion litter brothers Doldrum Brandy Snap and Doldrum Barron Knight . Their red/white litter sister, Barbarina being grand-dam to the Littlefair's present day top-winning Ch. Doldrum Hennessy, Best of Breed Crufts 1986.
Blodeuwedd 's final litter in 1978 was to Peter Clifton's Ch. Joseter Mudwin (Ch. Pantyblaidd Pip ex Samantha of Joseter), so admired for his lovely head in the hope of producing a nice dog as an outcross for her Gwythyr daughters. An appalling whelping of eleven pups left "mum" without milk, requiring Viv and I to hand-rear the retained ten.
All our hard work was rewarded however, for the litter produced the dark brindle/white litter brothers Ch. Baileswood Geraint and the dual CC winning Gethin. To day "the boys" have yet to sire a Baileswood champion, but mated to a Baileswood Bryn Mawr daughter, Gethin sired the first home-bred champion for Barbara Serginson, the brindle/white bitch Marycliffe Ceri.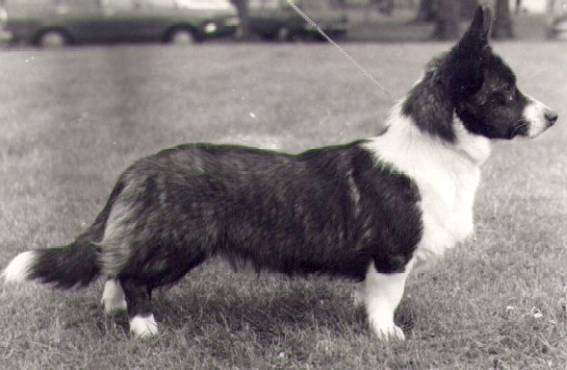 Ch. Baileswood Geraint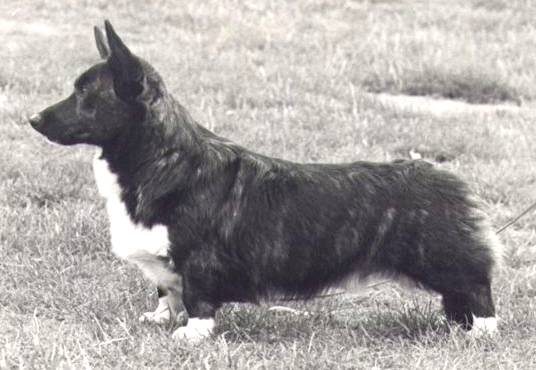 Baileswood Gethin

Doreen Dodd had also brought a Wendac Robgwen Midnight Special granddaughter to Geraint, this mating producing the brindle/white bitch Ch. Wendac Sugar 'N' Spice.
In 1979 Essyllt was mated to Geraint producing the dual CC winning brindle/white dog Baileswood Hopcyn for Mrs Wendy Hall of the 'Brynhall' prefix and in 1980 Dyddanwy was mated to Gethin producing the red/white bitch Baileswood Iarlles. Though not a top winning show bitch, Iarlles was extremely sound and looked to be the material from which good broods are made.
During the summer of 1979, Doreen Dodd had mated a Midnight Special daughter to Peter Clifton's Ch. Pharoah of Joseter, a son of Mudwin ex Daleviz Inga, which produced the black/white litter brothers Ch. Wendac Javelin and Ch. Wendac Jaunty. Crufts Best of Breed winner 1982 Javelin was my favourite and in 1981 Essyllt was mated to him producing the dark brindle/white litter sisters Baileswood Llinos (CC, Best of Breed and Reserve CC winner) and Ch. Baileswood Lleucu.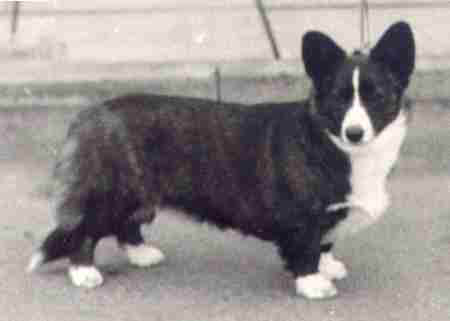 Baileswood Llinos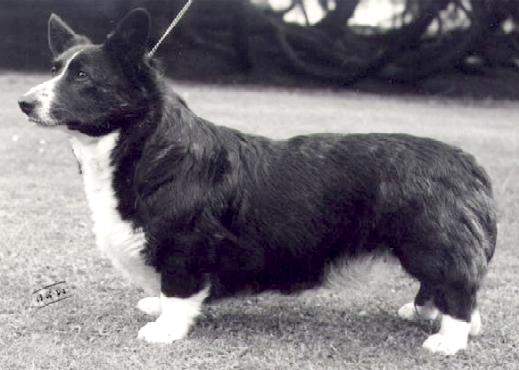 Ch. Baileswood Lleucu
In the spring of 1983, a litter was planned from Iarlles and during the search for a dog with good length, bone and substance, I decided upon Ch. Jubilee Joseph, a son of Pharoah ex Beckonpenn Carmen and the sire of Peter Clifton's outstanding dog Ch. Joseter Joson. Iarlles didn't let me down, producing our present day star, the lovely brindle/white bitch Ch. Baileswood Myfanwy Fechan.
1985 found Llinos mated to Geraint and producing the brindle/ptd.tri dog Baileswood Nefydd Hardd who is enjoying a successful show career, including Junior Warrant and Reserve CC.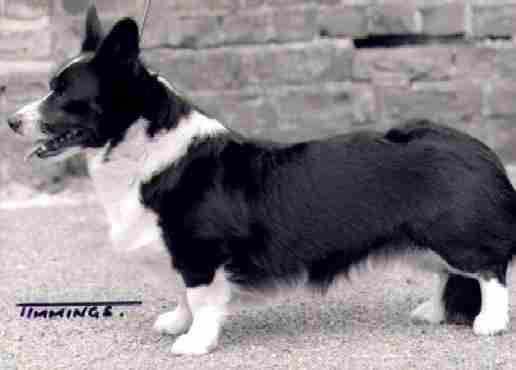 Baileswood Nefydd Hardd

1986 and Lleucu mated to Gethin produced the Reserve CC-winning dog Baileswood Sulien for Barbara Serginson and the dog Baileswood Steffan and CC-winning bitch Baileswood Sinead retained by us. All three are brindle/white and consistent winners in the show ring.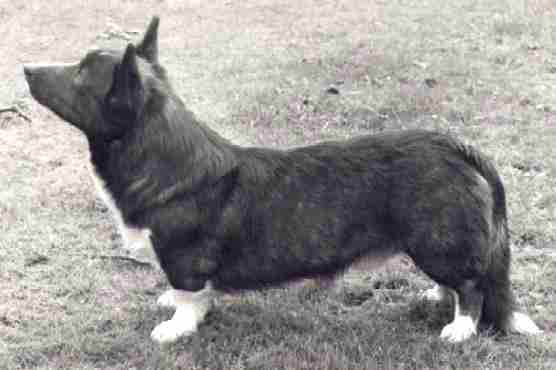 Baileswood Steffan
Deciding upon a stud dog who would be a complete outcross for Myfanwy Fechan, carrying neither Mudwin or Midnight Special bloodlines, I chose Miss Godden's Ch. Kentwood Arnallt, a red brindle/white sired by Bridgemont Suseman ex Ch. Kentwood Heulwen.
Born in June 1987, our red/white 'baby' Baileswood Teleri is a very successful show girl, winning her Junior Warrant and a Reserve CC as a puppy.
So the Baileswood saga is brought up to the present day. Looking back one cannot help but wonder, would it all have happened had Mr Elders not rescued his beloved Jill and bred Mawddach for us.
Sheila Bailes, 1989.